Want to be on our mailing list? Interested in a dog or puppy for adoption? Please get in touch! Due to scammers and con-artists we do not list our phone # so the best way to reach us...EMAIL!!!! Just click the link below to send us email:

CLICK HERE TO EMAIL US!!!!!!!!!!!!!!!!!!!


~Owning A corgi~

If you are interested in a puppy or adult, please follow the step below.

† Fill out a Puppy/Dog Adoption/rehoming Questionnaire -†
As a responsible dog owners, we take very seriously the commitment we have made to dogs, and as a breed.† Therefore, we try our best to find happy homes for each dog that comes into our homes. † My goal with my Questionnaire is to get to know you and what you are looking for better so that I can find you the best possible placement and hopefully insure that you and your new pet will be happy for a lifetime!
Adoption Application/Questionnaire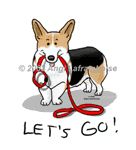 Please enjoy the following links, some are health related sites, some are of co-owners/co-breeders of some of our dogs, breeders of some of our dogs, and friends/families personal sites, some are sites where our friends have their dogs advertised for re-homeing and some are just fun links!
Fortin's Kennel(breeder of our Summer)
CR Farms(Breeder of our Simon & Simone, owner of Keeles' Pucker up Buttercup)
Jack Bradshaw - Dog Show Superintendents
Dogs & Puppies - Next Day Pets - Provides a venue for a dog rescue and dog shelter to find quality homes for adult dogs and puppies with information for 150+ dog breeds and pet supplies. Our pet store features dog supplies ranging from dog beds, dog doors, dog crates, dog toys and more. Includes a dog & pet website directory, pet friendly hotels and dog names.